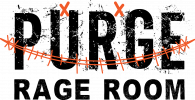 Welcome to the Purge Rage Rooms at Kanya Lounge! Chicagoland's exclusive 2 story adult playground with 3 unique custom made rage rooms. Looking for a safe room to let out some anger and really experience the ultimate stress reliever? Book your Rage Room today!
ALL THE RAGE!
Kanya Lounge features 3 custom designed rage rooms ready for ultimate destruction! Looking to visit a safe and designated space to take out your rage? Book your Kanya Lounge Rage Rooms today!
RAGE ROOM PACKAGES
PACKAGE ONE - $108
• 20 mins
• 2 people Max
• 1 Premium Item (Monitor or Printer or Surprise)
• Only 1 Small item will be allowed out of the following: Phone, Keyboard, Music system, DVD player, VCR, Surprise
• Mix of 5 Standard Items ( Plates, Glass Bottles, Cups, Surprise)
Behold! It is decreed that while closed-toe shoes are mandatory during your lively adventures, you may freely carry your cherished flip-flops and heels in a small satchel of your choosing to change later! You must arrive 15 minutes early. Any delay could reduce the overall amount of time you have to play the game. Therefore, be sure to get there early and take the entire game in stride!
Experience RAGE
Looking to promote a unique team building experience or better yet relieve bent up stress? Look no further, the Kanya Lounge rage room experience is the ultimate stress reliving activity featuring 3 custom designed rage rooms right here in Chicago! Book your experience today.