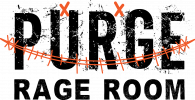 Welcome to the Purge Rage Rooms at Kanya Lounge! Chicagoland's exclusive 2 story adult playground with 3 unique custom made rage rooms. Looking for a safe room to let out some anger and really experience the ultimate stress reliever? Book your Rage Room today!
ALL THE RAGE!
Kanya Lounge features 3 custom designed rage rooms ready for ultimate destruction! Looking to visit a safe and designated space to take out your rage? Book your Kanya Lounge Rage Rooms today!
RAGE ROOM PACKAGES
PACKAGE ONE - $98
• 30 mins
• 2 people Max
• 1 Premium Item ( Monitor, Printer, Surprise)
• 1 Small item ( Phone, Keyboard, Music system, DVD player, VCR, Surprise)
• Mix of 7 Standard Items ( Plates, Glass Bottles, Cups, Surprise )
Experience RAGE
Looking to promote a unique team building experience or better yet relieve bent up stress? Look no further, the Kanya Lounge rage room experience is the ultimate stress reliving activity featuring 3 custom designed rage rooms right here in Chicago! Book your experience today.